January 17, 2018
I'm Not a Racist
He called some of those who marched alongside white supremacists in Charlottesville, Va., last August "very fine people."
"Black guys counting my money! I hate it. … I think that the guy is lazy. And it's probably not his fault because laziness is a trait in blacks."
Trump pardoned and praised Joe Arpaio, the Arizona sheriff sanctioned for racially profiling Latinos and for keeping immigrants in brutal prison conditions.
"Obama issued a statement for Kwanzaa but failed to issue one for Christmas." (Which wasn't true)
He called for "a total and complete shutdown of Muslims entering the United States,"
He said immigrants from Haiti "all have AIDS"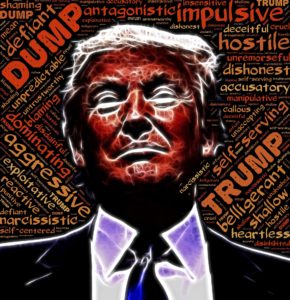 He falsely stated, "United Kingdom crime rises 13% annually amid the spread of Radical Islamic terror."
"Nah, I'm not a racist," he said. "I'm the least racist person you have ever interviewed, that I can tell you." at a Mar-a-Lago interview.
"Our inner cities, African Americans, Hispanics are living in hell because it's so dangerous. You walk down the street, you get shot."
He called Puerto Ricans who criticized his administration's response to Hurricane Maria "politically motivated ingrates."
When David Duke, Grand Master of the Ku Klux Klan endorsed him, he refused to disavow him, even when asked directly.
Trump called Hispanic Miss Universe "Miss Housekeeping."
Trump took out advertisements saying that the "Mohawk Indian record of criminal activity is well documented."  He was competing with them to open a casino.
Pointing out a black man at a 2016 rally he said, "Oh, look at my African-American over here. Look at him."
The fact that he is undoubtedly a xenophobic racist is probably his strongest selling point with his core voters.